Lorraine has teamed up with authors Kelly McClymer, and Shirley Hailstock to form Storytellers Unlimited.  Check out our website.
SUMMER MAGIC … Tales from Blythe Cover manor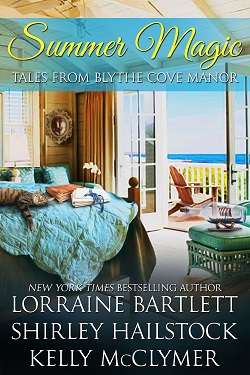 Lose yourself in the magic of Blythe Cove Manor In SUMMER MAGIC. The inn's mascot, Martha the cat, will welcome you to this magical place, where you'll learn the stories of three special guests who arrive at this beautiful place overlooking the sea on Martha's Vineyard:
Available: Kindle US | Kindle Worldwide | iBooks | Kobo | Nook | Smashwords
Our second Blythe Cove Trilogy, WEEKEND MAGIC
Three women..Three weekends. Follow the magic. Discover the hidden secrets of the past or an intriguing glimpse into the future. Weekend Magic.
Join Blythe Calvert and her unwavering wisdom as she directs her guests to discover the hidden secrets of their past or an intriguing glimpse into their mysterious future.
Available: Kindle US | Kindle Worldwide | iBooks | Kobo | Nook | Smashwords
COMING SOON
---
Our first group project was a 3-book boxed set called DANGEROUS SECRETS.
Just 99¢ (for a limited time)
Available:  Kindle US  |  Kindle Worldwide  | iBooks |  Nook  |  Kobo  |  Smashwords
SECRETS CAN BE DEADLY:  Four bestselling novelists — Four full-length novels packed full of juicy secrets!
Uncover what happens when an amateur sleuth who specializes in uncovering other people′s secrets has to keep one — a big one — of his own in L. L. Bartlett's Room at the Inn.
Discover the secret mission — one that could get her killed — keeping Morgan Kirkwood from being focused on going for the gold at the Olympics in Shirley Hailstock's More than Gold.
Find out the shocking secret behind one duke′s refusal to make love to the wife he desires in Kelly McClymer′s The Fairy Tale Bride.
---
Are you ready for the holidays?
Christmas has the power to bring people together…families, friends, and especially lovers. A Very Romantic Christmas reaches across time and space to remind us that the holidays are about love and connection. Settle in with a plate of Christmas cookies and some hot tea, tune to a carol-only radio station, and indulge in this holiday treat. No matter what the weather, this collection will transport you into the very heart of the season.
Kindle US | Kindle Worldwide | iBooks | Kobo | Nook | Smashwords